While innocently browsing a few sites to try and find a new small angle brush, I found myself casually looking through the Sugarpill section of Genie Cosmetics. I had a real 'Do I? Don't I?' moment, but then of course make-up whore in me took over and I couldn't say 'no.'
[[ Sugarpill ChromaLust box ]]
Ok, so usually I wouldn't collage pictures of a make-up box, but LOOK AT IT! It's gorgeous and cute, yet somehow without being too girly (maybe the rock 'n' roll style lace, font and logo save it?) The information on the box includes weight, company information, ingredients and the assurance that Sugarpill are a vegan, cruelty free company. Overall, a beautiful design with lots of attention to detail - it would be rude not to post these photos!
[[ Sugarpill 'Lumi' jar ]]
Sugarpill ChromaLusts come in clear, plastic jars with black lids. Unfortunately, there are no sifters or protective 'caps' (like those on MAC pigments) so you have to be quite careful when removing the lid. The label on the bottom includes the product name, ingredients, weight and company details - so if you want to ditch that pretty box, you wouldn't be losing an vital information.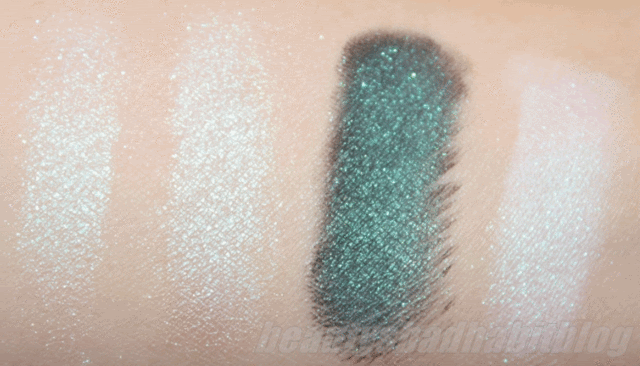 [[
Sugarpill 'Lumi' swatched over UDPP, FPE, black eyeliner and NYX 'Milk' jumbo pencil
]]
A Google search revealed that 'Lumi' is the Finnish word for 'snow' - are all Finnish words that cute? Probably not, but 'snow' would be an apt name for this colour in any language! A sheer white with turquoise blue duochrome and sparks of very fine, aqua glitter. In some lights it glows a soft, ghostly shade of green - very beautiful! Unfortunately I couldn't capture the amazing blue duochrome very well, though it is very evident over a dark base, giving a smokey, deep blue, shimmering colour. 'Lumi' lasts very well over primer, blends exceptionally well, no patchiness - just a stunning, sheer duochrome which would be a great addition to any make-up collection!
I bought mine from
GenieCosmetics
at £8.39 for 5g of product. Sugarpill can also be purchased from
Love Make-up
and
Cocktail Cosmetics
in the UK and the
Sugarpill
site. Would I buy a Sugarpill ChromaLust again? Most certainly! I have my eye on the infamous 'Goldilux', now...