I love wearing blue eyeshadow, somehow I never wear it out though...even to clubs and such. I think it's because blue eyeshadow, no matter how well applied, makes everyone do a bit of a double take - more so than any other colours. Maybe because of its old school reputation as being a colour choice purely for scary old women or equally scary 'ladies of the night'...
[[ Pretty blues! ]]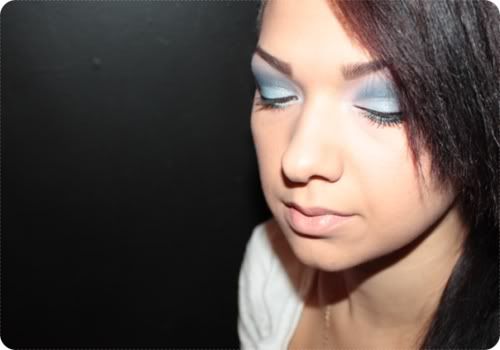 [[ Oh, 'Honeylove', how I adore thee. ]]
EYES - UDPP, Hi-Fi eyeshadow base, High Voltage 'In Loving Memory', High Voltage 'Faith', High Voltage 'Solar Power', High Voltage 'Champagne Supernova', Yaby indigo, Kryolan liquid eyeliner, Kryolan pencil eyeliner, mascara.
FACE - Revlon Colourstay, Sleek cream foundation, Topshop 'Nutmeg' blush, Rimmel 'Stay Matte' powder.
LIPS - MAC 'Honeylove' and a touch of High Voltage 'Pretty in Pink'
'Faith' is so awesome - sky blues are a weakness of mine but it's rare to find one with a lovely, creamy formula - can't wait to pair it with MUFE 92! I'll order a full size if I can...