Today I decided to mix up my metal...lics. Silver lid, coppery brown crease and a little gold above that. I think this is another look that would have benefited from some nice, wispy falsies - but alas, the only falsies I own are ones a drag queen would be proud of!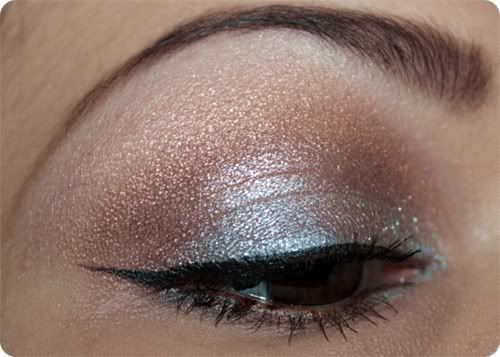 [[ SHINY! ]]
[[ Clearly daydreaming about food...mmm, food...]]
EYES - UDPP, Hi-Fi eyeshadow base, Too Faced 'Silver', Fyrinnae 'Lights of Quebec City', Beauty UK palette 1 coppery brown and gold, Too Faced 'Sugar Cookie', Too Faced 'Cream', Yaby black, Kryolan black eyeliner, UD 'Lucky' pencil, mascara
FACE - Collection 2000 matt + minerals foundation, Rimmel powder, Ben Nye 'Natural' and 'Pink' blush, Sassy Minerals 'Tart' blush.
LIPS - E.L.F 'Fantasy', MAC 'Honeylove', Colour Works toffee gloss.
I quite like it! I think mixing the cool silver with warmer colours is a super simple way for warm toned ladies to wear silver without looking a bit scary. PLUS, since I have warm brown eyes, the silver really makes them pop! WINNER!
What are your tips for making 'unwearable' colours more wearable?