I often get comments from people saying that they wish they could wear bright colours or were brave enough to try to - well, you can be! The key to wearing colourful or bold looks
and
pulling them off is confidence. You might have the fiercest make-up in the world, but if you look awkward and uncomfortable - it's fooling nobody. I've devised these seven simple steps to wearing coloured make-up with confidence so that you can gradually wear more colour and feel comfortable and confident in doing so :)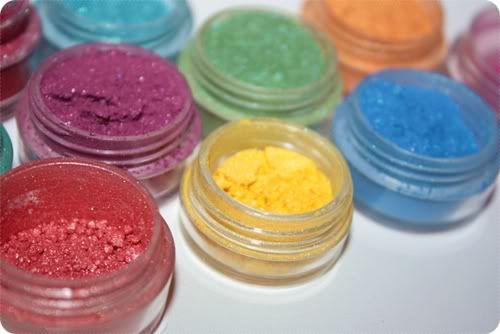 1) Learn which colours suit your skintone the best. One easy way to do this is by standing in front of a mirror in a plain white or black top and holding coloured items up to your face. Does your red scarf highlight an uneven skintone? Does your purple t-shirt brighten your complexion?
2) Start small. Maybe you could try swapping your clear lip gloss for a soft rose gloss, or opt for a brighter blush shade.
[[ Glamour Doll Eyes 'Martini Olive', MAC 'Deep Purple', MAC 'French Violet', Sassy Minerals 'Psych', Fyrinnae 'Envy Me', Urban Decay 'Shakedown', MAC 'Revved Up', Fyrinnae 'Shrouded in Gold', Too Faced silver ]]
3) Try 'nearly neutrals'. These are either colours/ shades very close to a tone (white, grey, black), metallics and neutrals with coloured duochrome/ shimmer. Favourites include dusky heather, olive, moss green, navy blue, butter yellow, coral, plum, bronze, gold and silver. You could just swap your brown eyeliner for plum, pink blush for coral or use a golden-pink lippy - simple!
4) Focus on one aspect of your face and really bring it out. Sweep shimmering gold across your lids and use a navy eyeliner, brighten up your cheeks and use a highlight along the cheek bones or pop on some cherry red lipstick.
5) Try some bold eye make-up. The eyes are the first aspect of the face we are naturally drawn to, so adding some drama to them draws even more attention! Use colours within the same colour group, such as varying shades of green or purple. Perhaps you could try to master false lashes, too! Even if you don't wear it out, just playing with colour and intensity will be a real help :)
6) Use contrasting shades in your make-up. You could opt to focus on the eyes, with sapphire blue and burnt orange eyeshadow, or go for bold emerald eyes and ruby lips!
7) Celebrate being over your fear!
Of course, you can stop at any stage - there's no rush or need to wear coloured make-up. Make-up can be washed off at the end of the day, so don't feel disheartened if you try something which you don't like - at least you tried! Try it out, have fun and ENJOY!