A wee while back, I joined an amazing forum for mineral make-up junkies which I found through
Phyrra
. While browsing, I stumbled across the
Darling Girl Cosmetics thread
which is jam packed with gorgeous swatches and updates on products. You can tell just by going through the thread how much the creator, Susan, loves making new shades and listening to feedback from others. She'll even customise/ custom-make colours at your request! How cool is that?!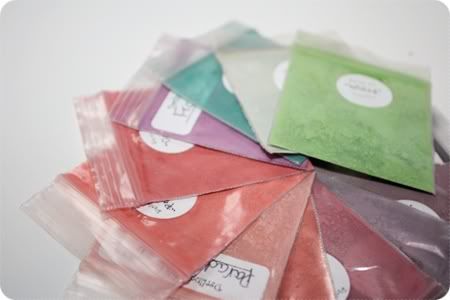 Susan contacted me to see if I'd like to pick a few of her products to review, of course, I couldn't refuse! Faced with so many beautiful looking products to choose from, I simply told her my skintone and suggested she send whatever she likes!
Click the jump for swatches and thoughts on
Darling Girl Cosmetics
!

[[ Mystic, Red Sky, Enigma, Palm Springs, Kindle, Frolic, Peace, Wicked, Grotto ]]
EYESHADOW
- The texture of the eyeshadows I received are very fine, soft, smooth and blendable. I imagine make-up newbies or those who struggle blending would love these, because they practically blend themselves! The colours are all unique and there are a few quite complex colours I'm very impressed with. All have shimmer, a touch of duochrome goodness or a bit of glitz, I do believe that the majority of Darling Girl eyeshadows have similar finishes, though there are a few mattes. The eyeshadows lasted well over UDPP, but as with all fine eyeshadows, I suggest using something like Pixie Epoxy or Hi-Fi primer and pat them on to really grab the product and show the full glory of the colours.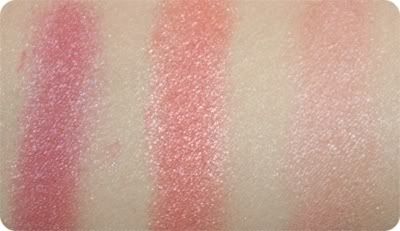 [[ Carnival, Penelope, Paradise Pink ]]
BLUSH
- Again, the texture is quite fine and light, but the pigmentation is very high! Use a light hand with these to avoid looking a little overdone (though I love lots of blush - hand me a trowel!). Subtle shimmer and sheen, these blushes give a nice, natural glow.
PRICES
- 5g jar blush OR eyeshadow - $4. 3g jar blush OR eyeshadow - $2. Sample blush OR eyeshadow - $0.60. Tinted lipbalm - $4.50. Liquid Kisses - $5.50. Mini Kisses - $3.25.
The one little flaw of
Darling Girl
is nothing to do with the products, but rather the product photos and swatches. They do NO justice to how gorgeous these colours really are! I think a few might be a little misleading, too, as I can tell the white balance is off. When you're ordering, read the colour descriptions! Susan already knows about this, but I thought I'd point it out for anyone thinking of ordering :)
Overall a great brand, fantastic customer awareness, beautiful, unique and often complex colours and very affordable - what's not to like? I now have my eye on the lip products and eagerly await the Halloween collection!
Check out the Darling Girl Cosmetics shop
here
, and the blog
here
:)