Well, I was supposed to be going out, but got bailed on. Again. On Friday, a
football match
was chosen over seeing me :/ Is it sad that I'm not even surprised? *Sigh* Whatever, rant over - because you know what - I looked fucking awesome!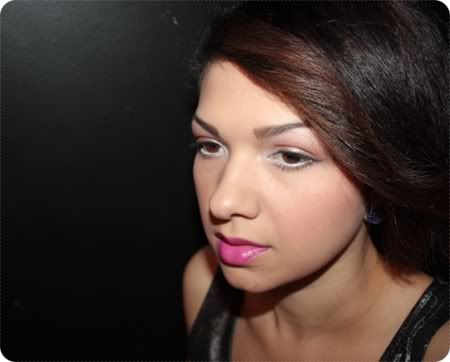 EYES - UDPP, Yaby 'Shell', Yaby rose brown, UD 'Toasted', Yaby 'White', Kryolan liquid eyeliner, Kryolan white eye pencil, MUA Shade 4, mascara.
FACE - Collection 2000 mineral mousse foundation mixed with Sleek cream foundation, Kryolan cream foundation (as concealer), Sassy Minerals medium finishing powder, Ben Nye pink blush, Sassy Minerals 'Love Child' blush, Lancome highligher
LIPS - MUA Shade...well, it'll the the hottest pink on the stand! Barry M 52, Fyrinnae 'Shangri-La' lip lustre.
I forgot how fun it is to wear hot pink lips :) I was surprised they actually looked nice, because I'm one of those rare people who think bright lips + tan = MAJOR FAIL. There's a woman who used to live near by who was sun bed orange and would wear super hot pink lipstick every single day. To top it off, she had badly permed orangey-brown hair...I don't know what decade she was stuck in, but I'm glad I wasn't around to witness it.
What are your favourite products for bright lips?