and very almost no mascara - but then I started worrying myself and grabbed for it like a fat kid grabs for nachos at a buffet. I've got to say, I did actually like the lashless look...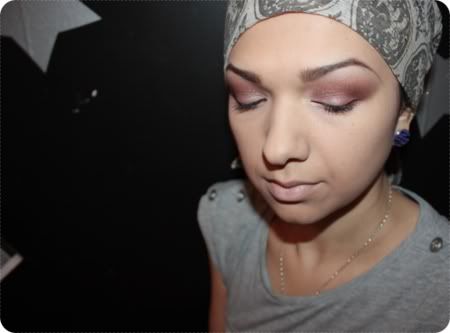 [[ No, I'm not a pirate, washer woman OR member of S Club 7 ]]
[[ The cranberry shade is lovely ]]
EYES - UDPP, Hi-Fi base, Stila 'Marrakesh' quad (both pinks and cranberry), MAC 'Nylon', mascara
FACE - GOSH primer, Natural Collection green concealer, Kryolan cream foundation, Collection 2000 matte foundation, Rimmel Stay Matte powder.
LIPS - Barry M 'Marshmallow' 101
I'm surprised I didn't miss blush, since I usually pile it on like a fat kid's piles his plate at a buffet (I should probably stop with the fat kid similes now, right?) I'm also surprised that the frosty pinks didn't look
so
bad on me...Definitely ditching the head scarf look, though! OH. And look - there's a natural shadow under my cheekbone! Whaaat?! I
never
get that. My bid to gain weight failed, as I have somehow now lost 1 stone in less than a month. I need that fat kid to train me....