I went shopping on the search for one pair of jeans. Just jeans. Needless to say, I came away with a little more and spotted some fab deals along the way!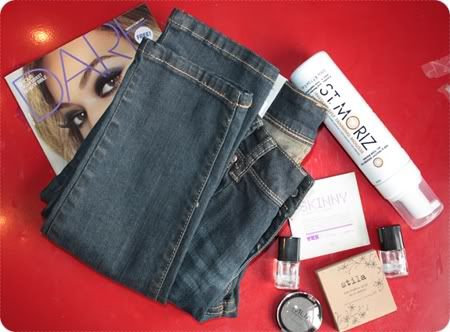 [[ Superdrug Dare mag, New Look jeans, St. Moriz tanning mousse, MUA nail polish and eyeshadow, Stila eyeshadow quad ]]
Click the jump to see what other bargains I found!
TK Maxx - Stila eyeshadow quad for £5.99. They were selling NYX polishes (didn't see any pretty ones though), Stila eyeshadows at £2.99 each, lipsticks at £3.99 each and lipgloss and £3.99 each. Calvin Klein make-up and nail polish sets between £9.99 - £14.99, Elizabeth Arden gel eyeliners (no price label) and St. Moriz tanning mousse at £3.49. Hair wise, I spotted Tigi Bedhead and Urban Retreat products for under a fiver - bargain! I was amazed by the beauty brands they were selling - there's usually nothing special in my local store.
Superdrug's £1 MUA line have fantastic pearl eyeshadows - I love the formula, so I picked up Shade 12 (the MAC 'Club' dupe) and some clear polishes, too. They also have a 'bargain shelf' in my local Superdrug where all the clearance items go. I saw GOSH lip jams for £3.50 each and Urban Decay nail polishes (no price label), but no shades took my fancy.
[[ image source - www.kaboodle.com ]]
Savers is a great shop for beauty stuff - and yesterday was the first time I'd been in years! Great for essentials such as shampoo, hair spray, lip balms, deodorant, body scrubs etc. They were also selling Eyelure falsies at £2.49 a pair and misc falsies at £1.99 a pair. There were loooads of false nail sets for cheap, too, as well as nail stickers. I also found some Max Factor eyeshadows but didn't check the price. I just picked up some (much needed) St. Moriz tanning mousse for £2.49 - awesome!

[[ image source - www.newlook.com ]]
Finally, I found what I'd actually gone down for! Skinny jeans from New Look, £19.99 - students receive a 20% discount, which took they down to around £15 :)
Have you spotted any beauty bargains lately? What drugstore products have you been eyeing up?