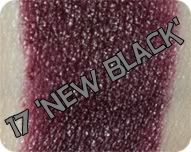 Boots 17 Lasting Fix Lipstick in 'New Black' checks all the boxes for the Autumn/ Winter trend that hits us every year - super dark lips. A rich, lush, deep plum, I can see this easily being a top drugstore pick! Plum often proves a popular choice as is generally suits everyone - from pale as snow, cool toned girls to dark as night, warm toned women. I do, however, think you need a little attitude and an edgy vibe to pull off
any
dark lip colour.
'New Black' isn't really a 'me' colour, I prefer bright or nude lips, but I can see myself reaching for this once the cold, dark days kick in!
[[ Plum lips, pinky cheeks, mascara, white eyeliner - sorted! ]]
'New Black' is a few shades darker than in the full face pics since I popped some gloss on and used flash (gloss reflects light etc etc) - the swatch up top is more colour true :) Like the majority of dark, matte lipsticks, 'New Black' applies patchy - I'd recommend filling your lips with lipliner before applying any dark lip colour. To lose the dead vampire look, some gloss over the top will make for a slightly more glam finish.
Available from Boots for £3.49
Will you be rocking the dark lips this Autumn/ Winter? Or is the never ending trend for red lips more up your street?