We UK ladies aren't fortunate enough to have brick and mortar stores which sell truly unique, striking, gorgeous polishes. Nfu-oh, China Glaze, OPI, ORLY...nowhere to be seen. American and Canadian ladies seem to have all the luck in that department! We don't even have the Claire's 'Mood' polishes over here! Lets face it, we pretty much just have the choice of what we can salvage in Boots and Superdrug. Occasionally, we can salvage something a bit special....
[[ Red, orange, yellow, green, blue, gold, bronze...]]
Robyn brought this polish to my attention in
this awesome post
and I knew GOSH 'Rainbow' had to be
mine
. £5 and a Superdrug trip later, it was :) 'Rainbow' has a clear base, packed with glitter flakies which shift between yellow-gold, warm orange, coppery red and a fresh spring green - very unique! I keep turning my hands to watch the colour change! In the bottle, the polish also shows blue and violet - but it's nowhere to be seen on the nails. It look awesome over a dark base. I think it would look pretty cool over navy blue, dark purple or drab grey.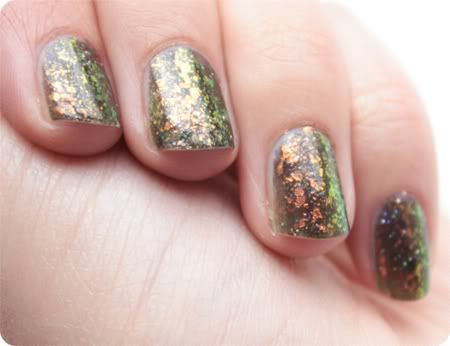 [[ GOSH 'Rainbow' over Topshop 'Gypsy Night' ]]
Fast drying, packed with flashy glitter, fantastic formula, great brush, easy way to spark up a boring mani - it's won my heart! Has it won yours?