Review to come soon :) Meanwhile, cast your eye upon these
Sassy Minerals
pretties...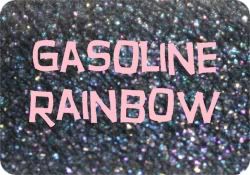 What's black and colourful all over? 'Gasoline Rainbow'! Sheer black with loads of fine multi-coloured glitter. NOT holographic glitter. This looks best over a sticky base, like Hi-Fi primer.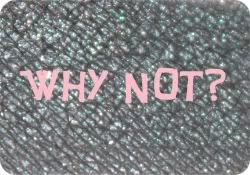 Why Not? Maybe because I have Fyrinnae 'Kuroneko' and you're very similar? Deeper than the photo, 'Why Not?' is quite hard to describe! Charcoal with silver glitz in some lights, 'Why Not?' takes on a taupe shade with green shimmer, which 'Kuroneko' does not...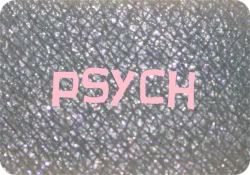 'Psych' is a medium purple-blue with gold and purple flashes. It buffs down to a flattering grey-purple with golden shimmer. Very wearable. I can see this being a rather sophisticated shade for the more mature lady.
'Drama Queen' is a warm, chocolate brown with purple-pink sparkle. Blends out to a sensible, soft brown.
'Vixen' is described by Sassy as a mauve raisin...I'd describe it as a near enough dupe of 'Drama Queen', though slightly more red. Why sell such close shades? I've no idea...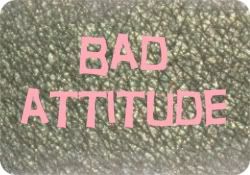 'Bad Attitude' is what I call a 'dragon green', green with gold shimmer. This would look incredible on folk with dark skin! I've had so many similar colours to this and I can never get them to work for me, but I continue to buy them. WHY?!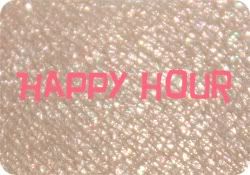 'Happy Hour' is fast becoming one of my favourite mineral eyeshadows! It's a warm, glowing cream-gold with a touch of copper. Great lid colour, brow-bone highlight colour and cheek highlight, too! Incredibly versatile.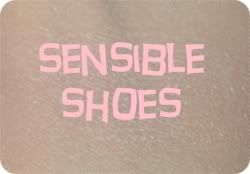 'Sensible Shoes' is a straight up, no nonsense light, matte cream. I bought this as a highlight shade, but it's barely visible on my skin. Good for smokey eyes, I guess!
'Understated' is a light, matte pinky cream. Described by Sassy as a neutral tan, I'd have to disagree. There is nothing even remotely tan about this shade. And the pink tones make it quite cool on my warm skin.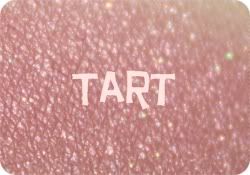 'Tart' is a warm, pink blush with golden shimmer. Sheer but buildable.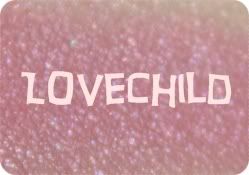 'Love Child' is a cool, girly pink blush with shimmer. Sheer but buildable.
Sassy Mineral
eyeshadows cost $4.25 for a full size, samples are $0.75 (and very generous). Blush costs $11 for a full size, $0.75 for a sample. Samples come in jars, too! Whey!