I love eyebrows. I really do. So did Kevyn Aucoin, so at least I'm not alone! I love me some dramatic, groomed eyebrows! Nothing irritates me more make-up wise than seeing a really pretty, well blended and thought out look, paired with lazy 'brows. Why even bother spending the time to perfect your make-up when you've failed to shape your eyebrows or fill them in? All anyone will be looking at is your eyebrows. Those disappointments hovering above your eyes. Well cared for eyebrows lift an entire look and make it look 100x more polished and professional.
There is really no excuse for failing to shape or fill in your eyebrows. If you're scared of shaping them yourself, get a beautician to do it. In England it only costs about £5! Then all you have to do is pluck out the stragglers - easy! If you've over-plucked yours or they're just a tad sparse, buy an eyeshadow or 'brow powder' for a natural look and an angle brush to fill in the shape. Eyebrow pencils last longer than powders, but tend to look rather obvious. This will set you back about £8. I use an MUA eyeshadow (£1 at Superdrug) and a Ruby & Mille brush (£5 at Boots).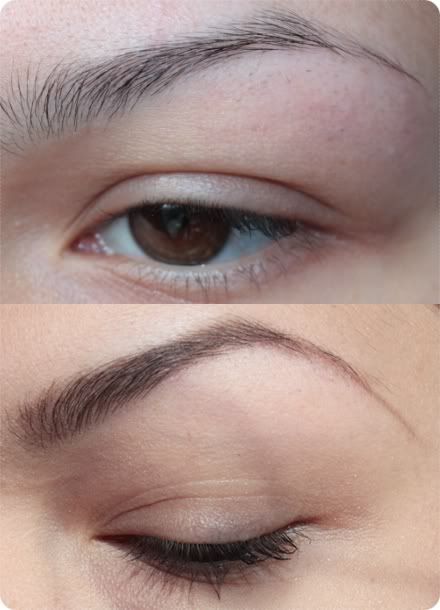 [[ Top = naked 'brows - Bottom = filled in 'brows ]]
As you can see, I've almost plucked mine into oblivion! I love having a super sharp arch and a long, thin 'tail'. As a rule of thumb when it comes to filling in your eyebrows, if you have dark hair go two shades lighter. If you have light hair, go two shades darker! I use a medium brown for black hair, medium auburn for red heads and ash brown for blondes.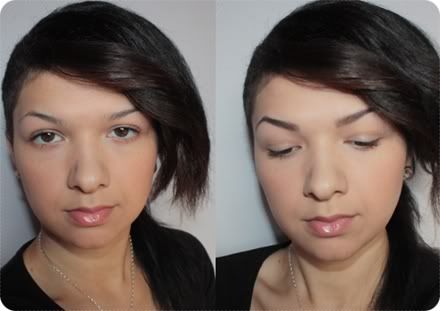 [[ Natural eyebrows - Filled in eyebrows ]]
My entire look is fresher, more polished and flattering with filled in eyebrows. I think naked eyebrows are super ageing - look at how much older I look in the first pic! It's much more obvious 'in real life'. But think about it - have you ever seen an old lady with full, well shaped eyebrows naturally? No. Like the hair on our heads, our eyebrows thin with age, too.
So take the plunge! Try it out! It might take some getting used to, but you'll thank me for it! Honestly! Trust me, your eyebrows are definitely worth the effort :D