After indulging for far too long in blue, purple and black I figured I should introduce some greens in to my nail polish diet. Mint green caused a stir earlier this year, but pastels and greens generally disagree with my warm, yellowish skintone :/ I needed a richer alternative....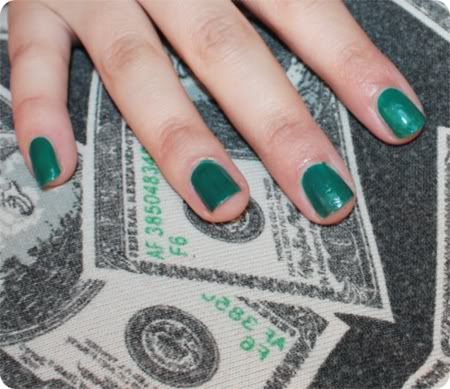 [[ I never claim to have neat manis! ]]
Browsing through Claire's one day, I spotted what look like a nice, deep, slightly teal green. I thought it could be the exact green I'd been looking for - something unique and wearable. I snatched it off the shelf, skipped to the till and parted with a mere £2. The excitement, however, was short lived. Around 4 coats to opacity and a drying time of about 5 hours isn't anything to shout about :/ I do keep trying with it though, as if the formula will magically improve over night. Time to accept defeat and try something else...
[[ Illamasqua 'Rampage' - dark jelly green ]]
Dark jelly green, you say? Congratulations, 'Rampage', you have made it on to my hit list! YOU WILL BE MINE. Though I confess, your £13 price tag and Trafford Centre lair leave you safe from my hands....for now.