I love a good nude. Nude lip, that is! I've even been known to rock the blanked out, foundation lips from time to time (only EVER with super heavy eyes) and I feel no shame! I feel incomplete with a lip colour and nudes are always a winner.
A nude lip goes with EVERYTHING, so it's worth investing in a few nudey colours. As a 'rule', I'd say a pink-nude, tan-nude and a neutral nude. Pinks generally work well with cool eyes/ cheeks, tan works with warmer colours and a neutral 'Your lips but better' works with, well, everything! Trust me, you'll be reaching for these practically every day, so it's worth spending a few extra pennies on some really good quality ones...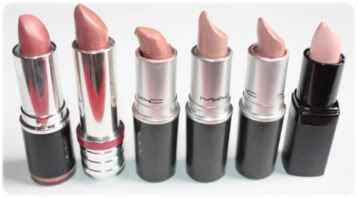 L-R - MUA Shade 11, Clinique 'Nude Splurge', MAC 'Jubilee', MAC 'Honeylove', MAC 'Blankety', Barry M 101.
On the one end of the spectrum are the 'My lips but better' colours - Shade 11 practically matches my own natural lip colour, whereas 101 at the other end is super pale and very pink, not so natural at all! I generally use this to pale out the other colours. My fave in this bunch HAS to be MAC 'Jubilee', however, that and 'Blankety' both got destroyed by my sister -_- Destruction aside, they're both fantastic nudes. MAC has a huge range of nude colours, so bob in and have a play!
L-R - Natural Collection lip balm tube, Colour Works toffee, MAC 'Instant Gold' lustreglass, Fyrinnae 'Lace Gloves' lip lustre.
I'm not really a gloss girl, as you can probably tell, these have randomly appeared in my lip collection over time instead of being concious 'nude lip decisions'. The Natural Collection is actually a lip balm, but it's so thick and pigmented that it can be used as a gloss! I'm not even sure they sell these any more. Either way, my fave has to be 'Lace Gloves', the texture is perfect and it rubs down to a beautiful pink-peach-gold.
What do you think about nude lips? Are you a 'My lips but better' kinda person, or a blanked out lip kinda person? What's your favourite nude colour? Feed my nude lips addiction!