Mineral blushes are always a bit hit and miss. It seems a LOT of mineral companies make theirs either one of two things - A) So sheer it's barely visible or B) So sparkly you'd make a Twilight fan suspicious. Finding a nice, 'matte but slightly sheeny' blush is
hard
, because if you've been in the mineral make-up realm for quite some time, you probably know that 'matte' often translates to 'chalky' or 'really dry and hard to blend'.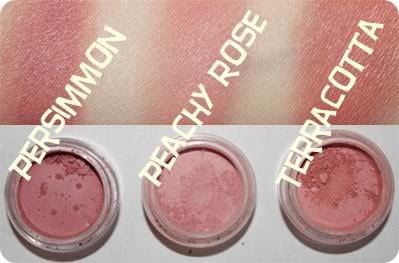 They have answered all of my blush prayers! Pigmented, buildable, super soft and blendable, matte with a natural looking glow (NOT glittery/ shimmery AT ALL!), shades which suit my skin tone, the perfect pink (I've been looking for ages) and they're long lasting to boot *super funky happy dance*
And guess what? One blush only sets you back a tiny, pathetic, minuscule $3 for 5 grams of product - enough to last you for aaaaaaaages!