Shade 1 seems to be a blogger favourite, with its deep blue charm and sparkle goodness. I've been on a blue nails kick lately (mostly sporting old Collection 2000 colours and Barry M 'Cobalt') but another blue couldn't hurt, right?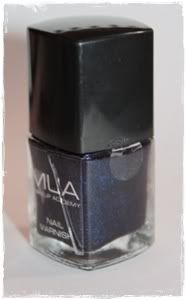 The base is a navy so dark it's very nearly black, this darkness is lifted by the tiny bright blue sparkles throughout. A very Autumn/ Winter colour, but do I care? No. It's Spring/ Summer rivals are boring me now - 6 months of mint, lilac, banana yellow, sky blue and soft pink? GIVE ME MY BABY GOTH BLACK BACK!
Shimmery, shimmery! Truth be told, the sparkle was only really evident under direct sunlight and the flash of my camera. In 'normal light', this shade looked only slightly glitzy, so fear not if sparkle isn't your thing, it isn't overwhelming.
Although I didn't apply Shade 1 (Midnight Blue? Deep Sea? Storm?) to my actual nails since I'm sporting a MissChievous gradient nail, I could tell that I'd like this formula. It's thick, and took two coats to get a truly even finish, but left no streaks or bubbles. The brush is quite small, but perfect if you have small hands like me :)
As for tip wear, I obviously can't comment myself, but I have read that it goes about 3 days before chips starts to appear. Not bad at all for a £1 nail polish!