I used to wear huge, drag queen type falsies quite often when I was about 15 (almost 4 years ago), paired with my heavy eyeliner, band shirts and TUK boots, I thought I was pretty god damn rock 'n' roll. But, alas, for then all my lashes got lost or deformed and I never really got into them again...Until lately....
I've craved the fluttery, fluttery feeling of falsies. That first hour or so after you apply them and keep wondering what the hell is invading your eye area, peeling the backing glue off and hoping they don't lose their shape and cursing them as you poke about your eyes with tweezers. It's all
so worth it!
Falsies can completely transform a look - usually for the better.
To satisfy this fresh craving, I popped into Boots (they currently have a 'buy one, get 1 half price' offer on falsies and nail care) and Superdrug. 7 pairs later (and a shameful £27 later) all of my withdrawal symptoms had vanished! Miraculous!
Here's some of what I bought...
From Boots. I fell in LOVE with this pair, they're nothing like any other falsies I've seen. Lashes with creamy ivory/ metallic gold/ black fabric strips. But at £8.95, could I really justify buying them? I kept going back to the stand, 'Should I? Shouldn't I?', but they're gorgeous. That's all the justification I need to buy anything!
The 17 lashes were only £1.50, cheapest falsies I've ever bought. There are 2 more styles, but they weren't in stock. Look at all of that packaging, though! How crazy is that!? It's HUGE and the lashes are tiny, completely unnecessary.
These were from Superdrug and they are AMAZING. I've never seen fluttery, light lashes this huge and this dense before! I think this pair cost about £7, you can get similar ones for about £4, but they don't look half as elegant or delicate. The longest lashes look like feather strands, they're stunning!
I bought 2 pairs of NYC lashes from Superdrug, too, £1.95 each. They were both pretty standard designs though, so I didn't bother taking pictures.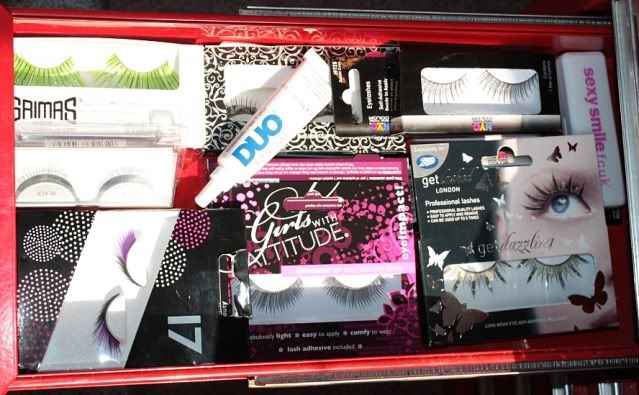 Cleaned out the old, nasty falsies and replaced 'em with this newest bunch, I can't wait to try them out!
Do you wear falsies? Easy/ hard to apply? Strips or individual? Favourite brands? Let me know!